eCommerce
What Is Shopify? – Your Questions Answered
---
In this Shopify review, we are going to answer some of the most burning Shopify questions.
I've mentioned before that Shopify is one of the best eCommerce website builders. However, I often get asked "What is Shopify?" and "How does it actually work?".
So I thought it would be a good time to share with you my answers to the burning questions you have about Shopify. It's one of the most popular eCommerce platforms, so it's definitely handy to understand what it's about.
The Shopify Story
A little over 10 years ago, the now owners of Shopify were struggling to sell snowboards online. The eCommerce solutions that existed at the time weren't cut out for the job.
They found there wasn't enough control over what they needed, so they built their own solution. This is what we know and love today as Shopify. Today, there are over a quarter of a million online stores using Shopify, with over $30 billion in sales.
Shopify Review: What is Shopify (And How Does it Work?)
Shopify is an eCommerce website builder. It allows you to sell products online without needing any experience in web development. You won't need to know an ounce of code to get started with Shopify.
You can take one of their hundreds of templates and personalise it to your own wants and needs. Their templates are professional, fit for purpose, and are all responsive (so you won't have to worry about where your customers are shopping from).
Shopify's Free Trial
Shopify offer a 14-day FREE trial, so you can test out their platform before you buy. You'll have access to hundreds of templates which you can customise.
Whether you're looking to add images, text, or video, it's all possible and simple to do using their builder.
When you've chosen your theme, you can start selling immediately. Shopify's platform offer a handful of built-in shopping carts, so you won't even have to source your own.
Shopify Features
Shopify has well over 70 payment gateways to use. This means customers can use your store's checkout with ease, and in multiple languages if this is required.
They have a full marketing suite packed full of features. These include content management, store management, SEO, and abandoned cart recovery.
It literally is an all-in-one solution, so I can understand why so many businesses choose to use Shopify.
Shopify Review: How Much Does Shopify Cost?
Once your free trial is up, you can decide whether or not to sign up to Shopify. I've put together their most up-to-date pricing table as of November 2019.
| | | | |
| --- | --- | --- | --- |
|   | BASIC | SHOPIFY | ADVANCED |
| ONLINE STORE | Yes | Yes | Yes |
| UNLIMITED PRODUCTS | Yes | Yes | Yes |
| STAFF ACCOUNTS | 2 | 5 | 15 |
| 24/7 SUPPORT | Yes | Yes | Yes |
| SALES CHANNELS | Yes | Yes | Yes |
| MANUAL ORDER CREATION | Yes | Yes | Yes |
| DISCOUNT CODES | Yes | Yes | Yes |
| FREE SSL | Yes | Yes | Yes |
| ABANDONED CART | Yes | Yes | Yes |
| GIFT CARDS | No | Yes | Yes |
| REPORTS | No | Yes | Yes |
| ADVANCED REPORTS | No | No | Yes |
| THIRD-PARTY SHIPPING RATES | No | No | Yes |
| FRAUD ANALYSIS | Yes | Yes | Yes |
| ONLINE CREDIT CARD RATES | 2.2% + 20p | 1.9% + 20p | 1.6% + 20p |
| IN-PERSON CREDIT CARD RATES | 1.7% + 0p | 1.6% + 0p | 1.5% + 0p |
| ADDITIONAL FEES | 2.0% | 1.0% | 0.5% |
| SHOPIFY POS APP | Yes | Yes | Yes |
| REGISTER SHIFTS | No | Yes | Yes |
| HARDWARE PERIPHERAL SUPPORT | Yes | Yes | Yes |
| UNLIMITED SHOPIFY POS PINS | No | Yes | Yes |
| THIRD PARTY POS APPS | Yes | Yes | Yes |
| PRICE | $29/mo (£22.59) | $79/mo (£61.55) | $299/mo (£232.95) |
Shopify's pricing is pretty simple and really depends on what type of business you have.
The Basic Shopify product is ideally suited towards new businesses. It offers the ability to sell online with a FREE SSL certificate, 24/7 support, and tonnes of essential features.
If you have an established business, you may want to opt for their $79 per month plan. You'll have access to more tools like gift cards which help brand loyalty. What's more, it comes with Shopify's abandoned cart recovery tool which is frankly awesome.
For businesses who are making enough profit and are ready to scale up, the next step is $299 per month. Whilst that might seem like a lot of money, it does offer many advanced features that are a must-have.
What Is Shopify POS?
Shopify Point Of Sale (POS) means you can sell and accept payments anywhere. It includes some pretty cool features such as:
Secure payments
Plug and Play hardware
Multi-channel selling
Inventory management
Advanced checkout
24/7 support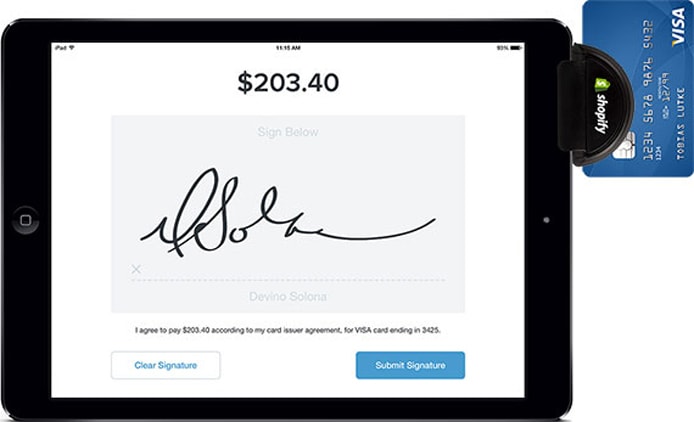 Consumers can shop online as well as paying in-person with Shopify's POS system. Merchants can enjoy low transaction fees, with rates down to 2.4% for all credit cards.
Do Big Companies Use Shopify?
Shopify serves over 1 million merchants worldwide. So it comes as no surprise that big companies also use Shopify!
Let's take a look at some of the well-known companies using Shopify's eCommerce platform:
How Can I Get A Business Name?
If you're stuck for a business name, Shopify has the PERFECT tool for you to use. Their Business Name Generator is FREE to use and is really useful.
All you need to do is enter in a word (or words) that you want your business name to include. Shopify will then inspire you with hundreds of business names to get your started.
Using a domain name generator to inspire you isn't lazy. It's smart. You'll be surprised how many good ideas your competitors haven't thought of yet

Shopify
What's Shopify's Support Like?
You can contact Shopify's support in a variety of ways. They have a community forum, help center, and their support team.
The Shopify Community Forum has over 60,000 members. The forum itself seems very active and is split into helpful sub-forums.
Browsing through the forums, the members seem very helpful and most of all friendly. I'd have no trouble posting on the forum and getting a quick response.
Shopify's help center is very easy to use. There's a wealth of documentation and guides to help you in your journey.
If you want to get a direct response from Shopify themselves, you can contact their support. Before doing so, they'll try and see if your question can be answered elsewhere.
Shopify offer a live chat service, email, phone, and support via twitter. There's definitely no shortage of contact options and I found they were all very polite and knowledgeable.
I hope you've found this Shopify review to be helpful. Please check out our other in-depth reviews and guides, or contact us if you have any questions.